Hello!  I'm Connie from over at The Paper Dialogues and Connie Lyu Photography. I'm super honored to be guest posting on Anastasia's blog because she is seriously the sweetest lady ever and also makes the sweetest paper goods.
Some of you may think kraft is one of those fads that are so cute but so overdone at times, but I beg to differ. I swear I'm not behind the times and just showing up to the Oscars in my MC hammer pants. There just seems to be an endless amount of new and interesting ways to incorporate this wonderfully charming, inexpensive and sustainable material into your packaging, events, you name it!
Kraft tissue paper and twine or a simple rubber band can be used to top off a glass jar. Voila! Cute present! (left)  Crumpling an old grocery bag, adding a sprig of an herb, and then using twine or rope to wrap a gift gives an antique, vintage feel. (right) I'd imagine this would be perfect to wrap soap.  ( 1, 2 )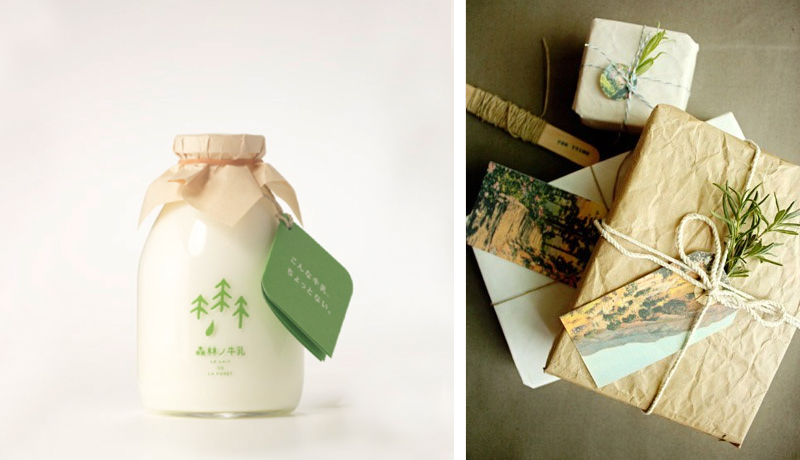 I can't get over how such an inexpensive material can look so refined and elegant. Simply pairing it with a neutral-colored tablecloth and florals (left) or adding the element of thread/stitching (right) seems to add that needed touch to make this material look out of its own league.  (1, 2)
I adore these cards by Shanna Murray and these book covers by Neithersnow. Both show how kraft and white ink will always be a power couple : ).  (1, 2)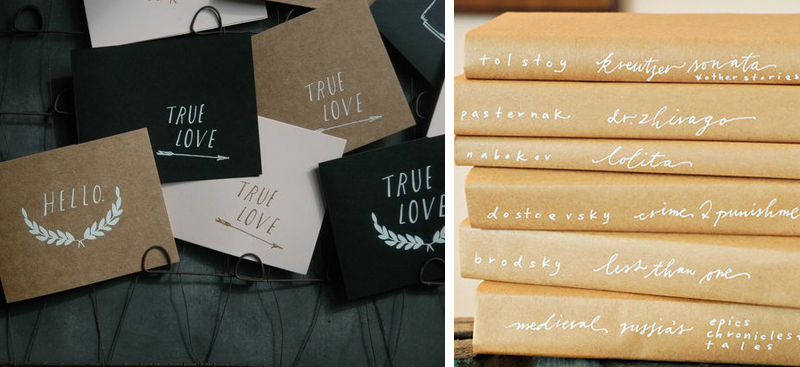 Check out these neat ways to use kraft paper in your wedding paper process: a menu, table number, invitation suite. I love how they used interesting, geometric shapes in an envelope liner with the kraft envelope.  ( 1, 2, 3 )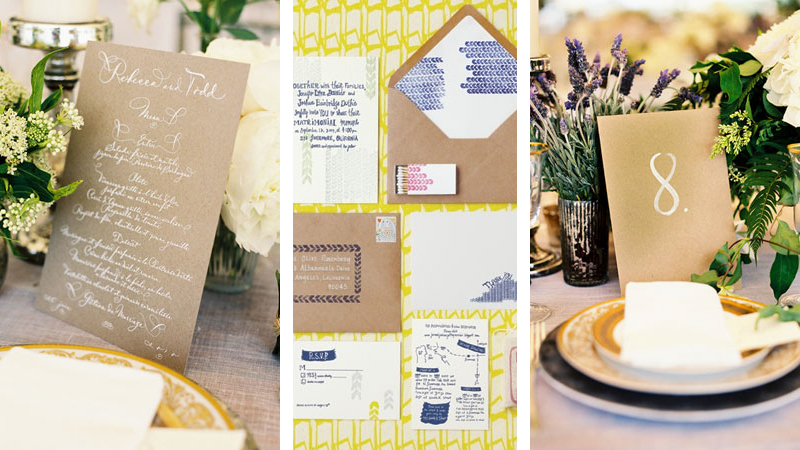 Lastly (not to purposely do a shameless self-plug), I love the look of gouache and black ink on kraft. I haven't made more of these journals in a while because of lack of time, but they were my favorite to make! Grab yourself a kraft journal and paint away for a sweet little gift for a friend.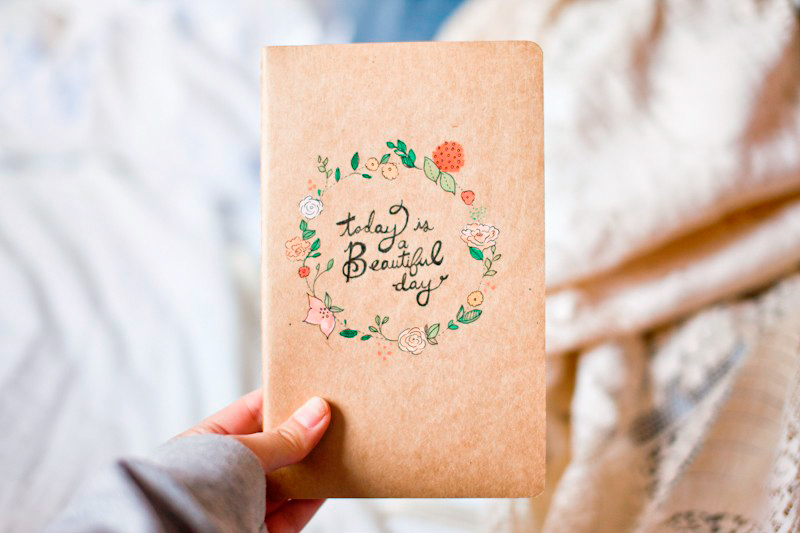 Follow Connie + The Paper Dialogues + Connie Lyu Photography!  Design Blog  |  Twitter  |  Photography Blog  |  Photography Facebook