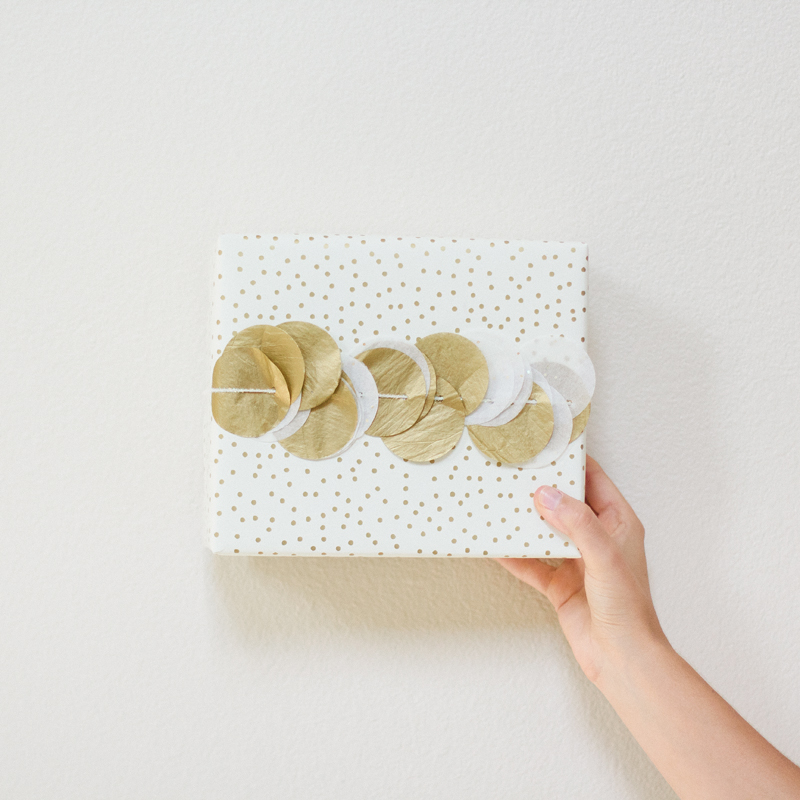 I currently have an obsession with confetti right now. So today's gift wrap uses tissue confetti on top of confetti wrapping paper. Here's what you need:
Gift box
Confetti wrapping paper (I found this gold one at Home Goods)
Confetti tissue paper
Metallic tissue paper
Iridescent white glitter string
1.5″ circle punch
1/8″ hole punch
Scissors
Double-sided tape
Once your gift box is wrapped in the confetti paper, carefully punch out confetti circles from your tissue paper using the circle punch. It works best when you fold the tissue paper over a few times and punch through the layers. Once those are punched out, use your small hole punch to punch one hole in each circle about 1/4″ in (yup, punching a stack of circles at once is easier than punching individually when it comes to tissue paper). Next, string the tissue circles onto the glitter string, randomly spacing them out. It'll take a bit of work getting the string into the small holes, but it'll look so much better without those gaping holes in the tissue. Once that's done, simple wrap the glitter string around the wrapped box and tie into a knot on the bottom of the box. Make sure your confetti circles span from edge to edge. And done!