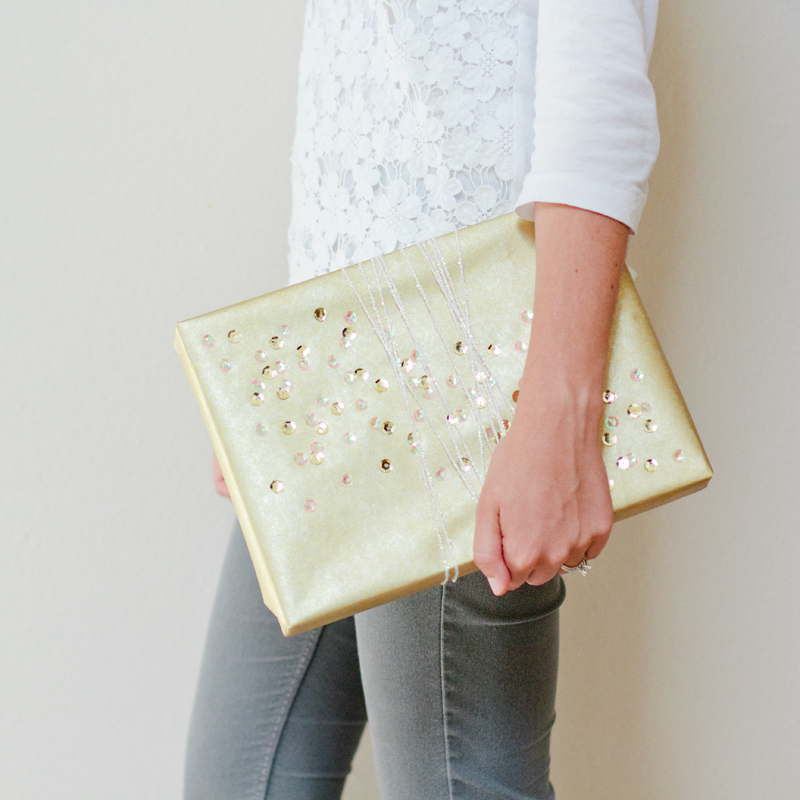 Sequins can be really fun—especially when they dress up simple gift wrapping paper to make a gift stand out more. This wrapped gift for a friend of mine for her baby shower, and if you want to re-create this look, here's the how-to and what you need:
Gift box
Gold kraft wrapping paper (found this one at Target a few years back)
White glitter string
Gold + iridescent white sequins
Tacky glue
Double-sided tape
Scissors
Wrap your gift box with the wrapping paper and secure with the double-sided tape. Next, apply dots of glue on top of the wrapped gift, starting from the top left corner and working your way down to the bottom right. Be as random as you'd like. Place one sequin on top of each glue dot, switching between gold and iridescent white as you go. If you feel like you need another round of glue dots and sequins, go ahead and fill in any gaps (I did that part an extra two times before I was satisfied!). Lastly, wrap the white glitter string around the box in the middle several times and secure on the backside with a small knot. And just like that, you're done!