I love see-through wrapping paper, but it's often times bypassed because the whole point of wrapping something up is to conceal what is underneath. I have purchased multiple sheets of such paper and even over here (where wrapping things is a weekly event) it collects dust too.
But let me tell you a secret. If you find yourself a box that's pretty enough to not wrap, then wrap it anyways with the see-through paper. The layered effect is absolutely glorious!
Things to grab:
• The usuals: scissors, double sided tape
• See-through wrapping paper
I found this lace style one at Paper Source years ago.
• Pretty box
I chose cream colored handmade boxes with a gold glitter polka dot pattern. If you look closely enough, you'll see the glitter popping out underneath the wrapping paper. So cool.
• Metallic green line ribbon
• Small air plant
Can be sourced at most local nursery or even online. Mine are from Etsy.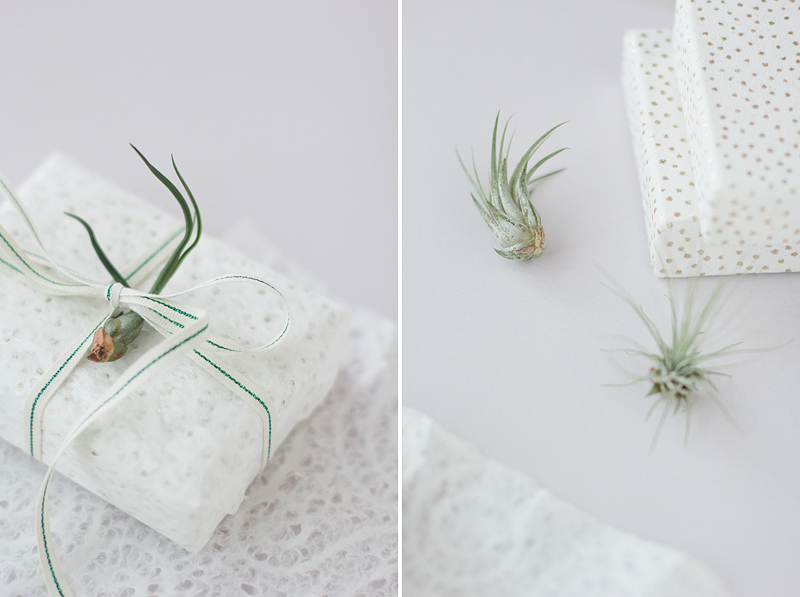 After your present is wrapped and tied up with a bow, simply slide your air plant either underneath the ribbon, or if it's too fluffy, add a dap of non-toxic washable glue to get it to stay. It won't harm the plant and will wash away as needed.